Basic Eye Makeup tips to look like a Pro
In this article, Daily Tactics Guru brings an complete information about your basic Eye Makeup Tips to look like a pro.
Requisites of Eye Makeup
Moisturizer
Primer
Foundation
Concealer
Eyeshadow
Eyeliner
Mascara
Rainbow Tip: Always go for the Brand which suits you the best..!
Creating a Fresh Canvas for you Eye Makeup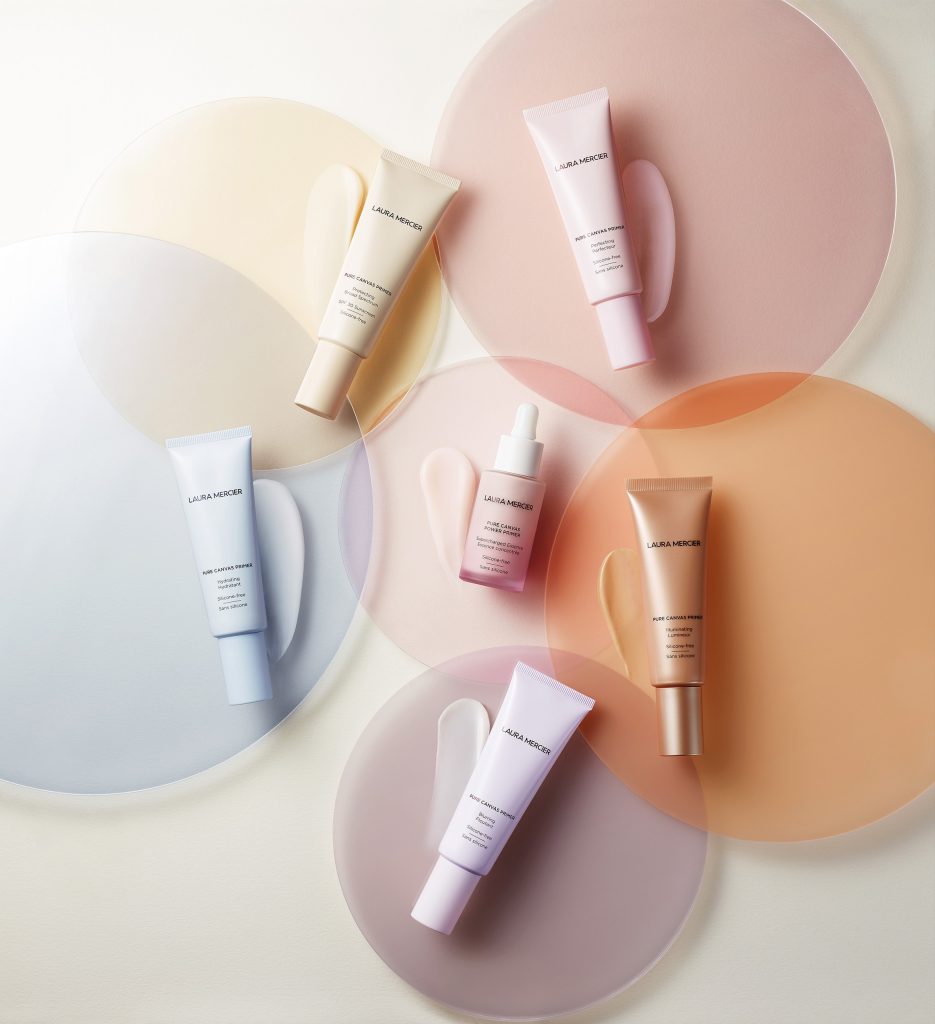 Before going for any experiment with your eyes, be sure that you have all the materials required and the best quality of them…
Not from, brand point of view. But suitable for your skin type.
Face Cleansing
A little gentle massage with a nice quality cleanser over your face can work wonders in removing dirt and oil from the pores of the skin.
Rinse off the cleanser with water and dry your face with a towel softly.
Hydration
Your face needs to look well moisturized and healthy underneath your Eye makeup.
A good Moisturiser appropriate for your skin kind and the one which has a suitable SPF should be picked.
Massage your face with fingers while gently applying the moisturizer.
Applying Foundation and Primer
Creating a barrier between the makeup and your skin is very significant here. As it helps in hiding your pores and giving a smooth touch to your face.
A foundation Primer can be used to cover your face.
Once you have picked a Foundation, from different colors, consistency, and finishes, suitable to your skin, apply it to your face with a good makeup brush having fine and soft bristles. You can also use a sponge to blend it with your skin color.
Rainbow Tip: It is essential to put foundation on your neck, ears, and other nearby areas to create uniformity.
Concealing the Blemishes
Use your fingers to gently put concealer under your eyes to cover dark circles, if any. Use Concealer can also be to blend other blemishes too.
Rainbow Tip: Don't rub the concealer too much…
Putting an Eye Primer On
Eye Primer will keep your makeup intact all day.
Use your fingers to gently apply primer over your eyelids.
Eye Shadows for you Eye Makeup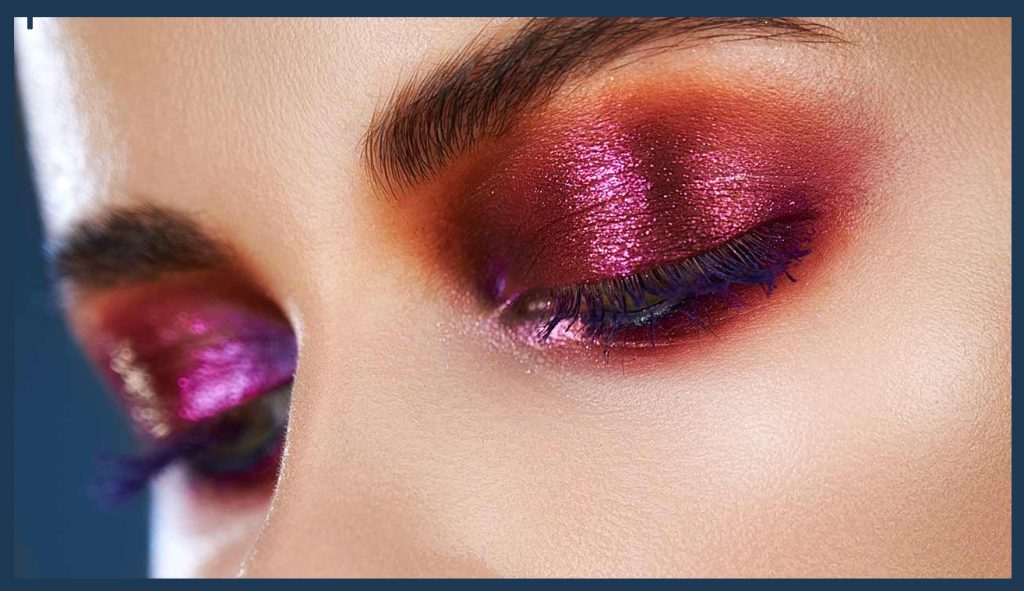 They come in different varieties with various types of finishes.
Loose Powder
Compact Powder
Cream
Baked
The following are some of the most favorite finishes available in the market.
Matte
Highly pigmented with a lack of shimmer, sheen, or shine.
Perfectly suitable for redefining the shape of the eyes. Works well for every skin type and age.
Glitter
Purely glitter which only sticks to a cohesive base on the eyes. But gives a beautiful impact when done carefully.
Metallic
Gives metallic look, like of gold, silver, copper, or bronze to the eyes. This is well suited for darker skin Complexion.
Lustre
Contains finely granulated glitter particles to give a vibrant sparkling effect. Most suitable for young girls. Mature people should avoid it.
Satin
A little of Matte and a little of Frost mixed together, we can say for.. Satin. Gives a soft sheen look.
Frost
Dazzling looks with white or silver particles. It can be used with different other eye shadows as well.
Eye Liners for your Eye Makeup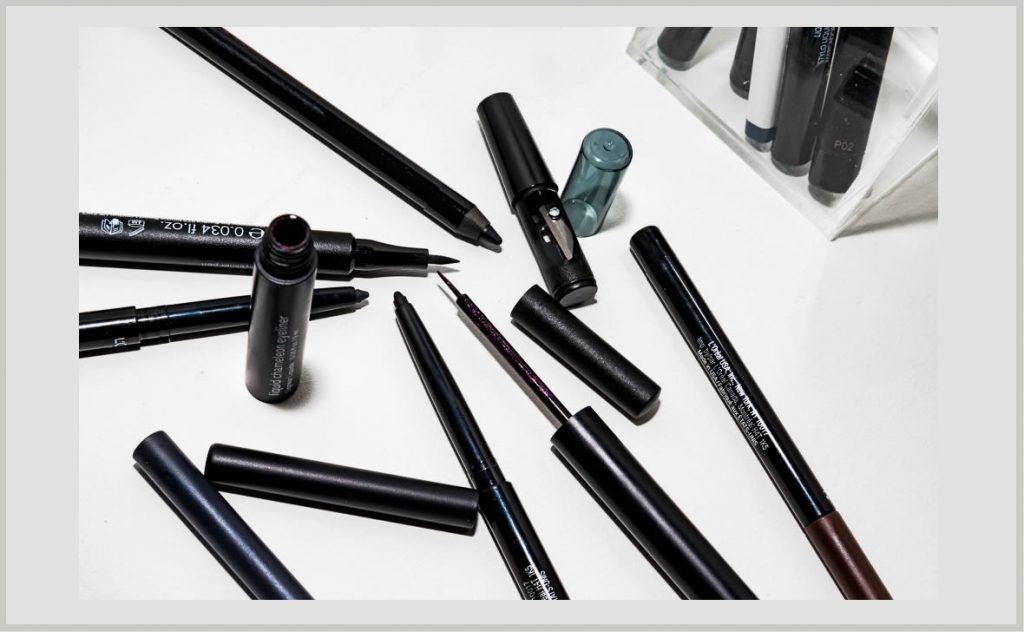 No omnipotent Eyeliner is available in the market… But yes… We have a huge lot of options designed for different uses by different people and different purposes.
Most commonly available Eyeliners are:
Gel Eyeliner
Also called Cream Eyeliner. It has a very waxy consistency and is applied with a q-tip or a brush.
These are waterproof and thus most suitable for long working hours.
Use a brush for more precision and to avoid any difficulty in the eyes.
Kajal Eyeliner
This kind of Eyeliner is usually smudge free as it's not creamy.
Compared to Pencil eyeliners, this one lasts longer.
Pencil Eyeliners
These we can say, as are of two types :
Regular
As the name suggests, it is the regular one, simple. Somewhat between a Kajal and a Kohl one. Nor too dry, Neither too creamy. More versatile, than can be thought of.
Kohl
This is the most suitable one for creating smokey eyes without putting extra efforts. It is comparatively creamier and easier to smudge around.
Retractable Eyeliner
The best point for this one is, that it need not be sharpened. Just a slight twisting and it comes out.
But the disadvantage is, that, after a little of its usage, it becomes dull and cannot be brought back to its original shape.
Liquid Eyeliner
These are the most difficult ones to apply, as of, I think so.
And again they are of two types :
Brush tip
These can be used to create very thin and precise lines but with practice, thick ones can also be created giving beautiful arcs.
Also, best for longer periods of staying power.
Felt Tip Marker
These are also called as Art liners. Most commonly used for quick and easy effects. Beautiful patterns and designs can be created with a good grip over the marker.
The staying power is as much as you want i.e. It will remain intact until you wash it off.
Mascara for your Eye Makeup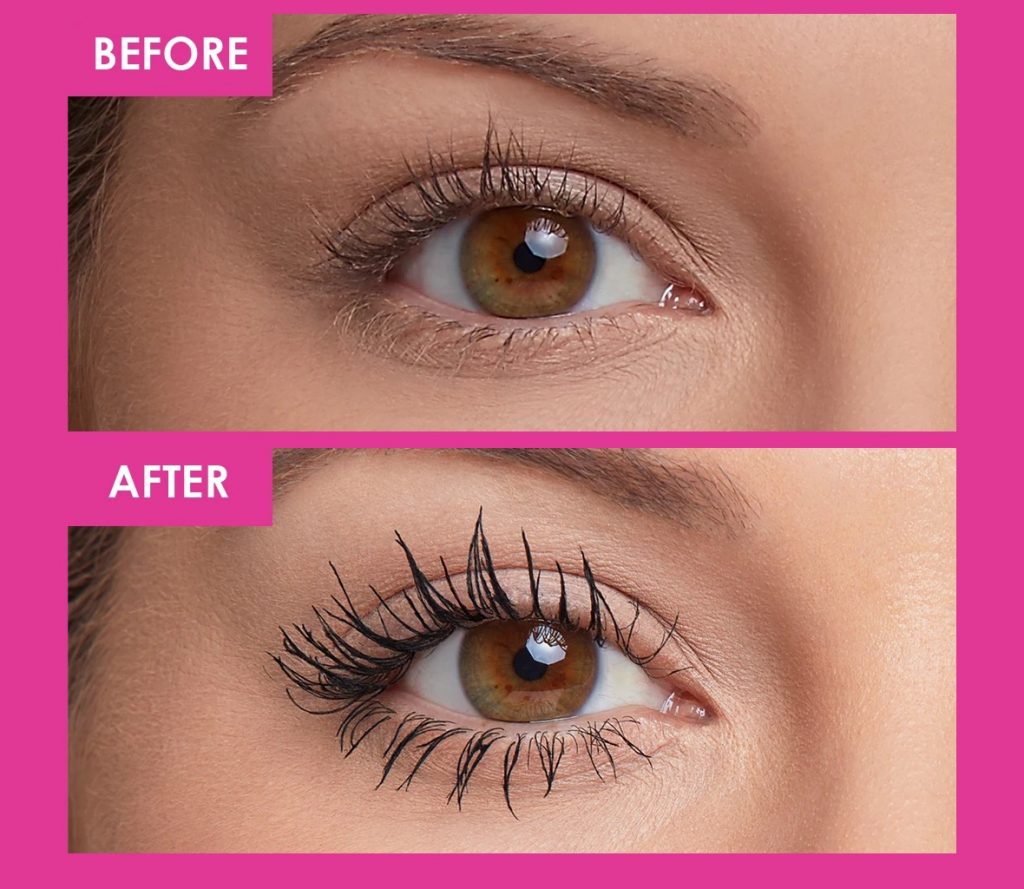 These are used to give a finishing look to your eyes. These help in changing the entire look of the eyes. You can thicken or lengthen your eyelashes with this.
Mascara can be:
Either of the two types can be selected according to the requirement.
Other than this, these can be categorized as:
Powder Mascara
It comes in powder form. A few drops of water are required to be added to use it. A wand is used to apply this kind of Mascara.
Cream Mascara
It provides thickness to the eyelashes and enhances the volume of the eyes. Although it adds depth to the eyes it can get smudged easily.
A good applicator is required for applying it comfortably.
Liquid Mascara
These are available in both categories of water-soluble and waterproof. They are most commonly used. They enhance the overall look of curly eyelashes.
And last but not least…
It is the confidence you carry in you and over your face, which is counted and makes you feel more beautiful and comfortable.
And don't forget to comment, if you liked the article.

Do not forget to read other articles on Daily Tactics Guru.

Have fun and enjoy life.