Flatter the world by your Looks.
Daily Tactics Guru is going to mention here some of the important accessories that you can count upon to make sure you look your best and confident.
Dress, How You Want to Be Addressed!
Yes! A few seconds! And there you are judged. But on what Basis? Your Looks? Confidence? Your Personality? Anything it can be. But would you like to take a risk on that? Noooo!
It is generally observed that the first impression you create on people may be the last one. You may never get another chance? If the 'First Impression' has so much of importance, then this is enough of the reasons to work on it.
Out of so many other things, Accessories can take your overall looks to another level.
How to Define: Accessories
The word defines itself as anything which is not fulfilling the main purpose but without which the main purpose will not be as fulfilled as it seems. In simple words, we can say, Fashion Accessories are the add-ons to your dress to upgrade your Looks.
12 Best Fashion Accessories
Anklets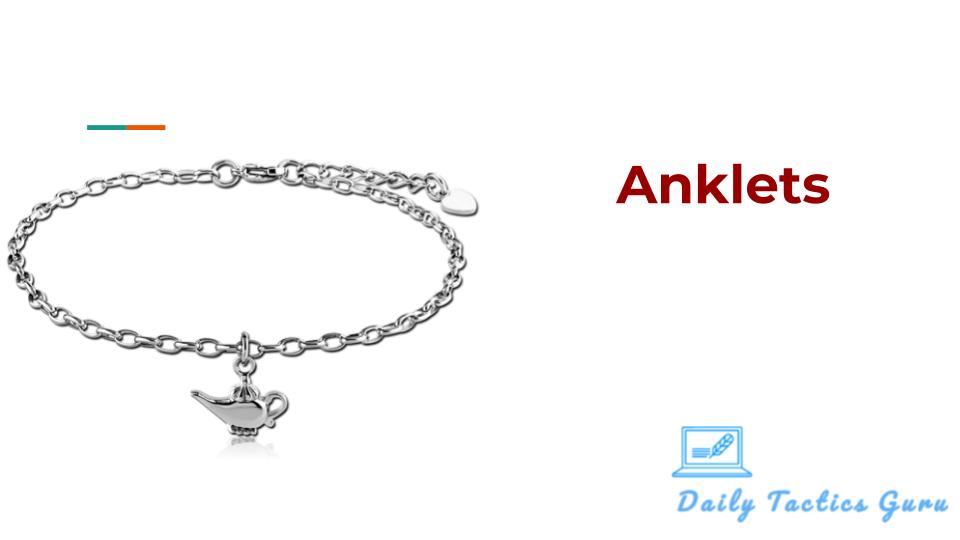 Anklets are worn around the ankles. These are available in different styles, designs, metals, and these days, in different colors as well. Depending on the dress you are carrying or the occasion, you can choose a different set. This ornament is not so famous all around the world but is very popular in some countries of the Indian Subcontinent. In some countries, it is a part of their traditional culture as well.
These are easily available in real gold and silver. The silver ones are the more preferred. But young girls, often, go for the artificial and colorful ones. And wearing the ankle around one ankle only has become a fashion trend now.
Bangles, Bracelets and Hand Bands
These accessories are worn around the wrist. In many cultures, Bangles are the significance of their married life. Bangles can be in different materials like glass, wax, ivory, precious metals, etc. People usually wear them matching with the color of the dress. The most expensive ones can be of Gold, Silver, and Platinum.
Bracelets are less fragile than bangles but easily bendable. Bracelets can be made up of metals or synthetic materials. Diamond studded gold or silver or platinum bracelets are in fashion these days.
Hand bands are for male and female both. These bands are best available in leather.
Earrings
Earrings as the name suggests, are the accessory we wear on the earlobes. The designs and shapes of earrings are not just limited to the loops or rings. There are more than hundreds of designs available in the market from chains to tops and from pearls to diamonds. Not only metals are used to make earrings, a whole lot of other material available like stones, Fibres, plastics, are in use to design wonderful designs. There are thousands of options available to be worn with different kinds of dresses.
Necklaces and Pendants
Necklaces are worn around the neck as suggested by the name itself. These can be varying in length. Huge and heavy designs are the first choice of mature ladies. But, the younger generation usually prefers light-weighted designs. You can also pair the chains with pendants or Small lockets. Or only a beautiful sleek designer chain is also a choice for some. Stones, plastic, wood, ivory, gold, silver, platinum, etc, all kind of materials can be of use in their making. Beads, pearls, diamond-studded necklaces are the most popular.
Rings
A ring is a small circular ornament which we wear on a finger. In some cultures, it is a symbol of Love among partners. The ring is the token of the proposal among partners. But it does not have any boundation, that others cannot wear them. Everyone has their preferences. Some astrologers advise a certain kind of specific rings to wear to enhance the luck. There is a wide range of fashion rings available in the market for different occasions and for different people.
Watches
This is what I prefer the most, an accessory which has no parallels. Watches have become a style statement now. And so is their range. From the most economical one of 500 INR to million dollars. People spend a lot of time on selecting the watch which suits them the most. A designer watch can change the personality of a person from head to toe. These days Smartwatches have also arrived to serve altogether a different purpose.
Sunglasses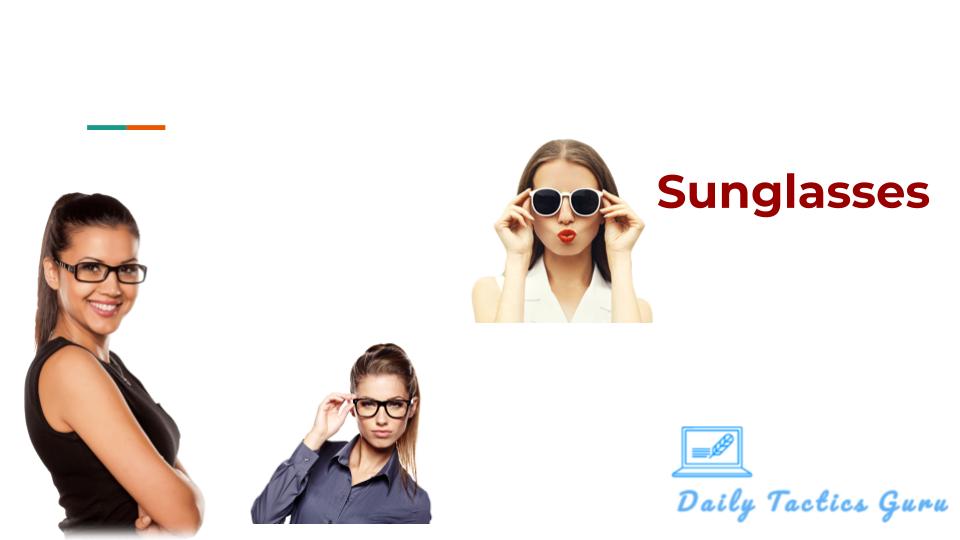 The major purpose behind the invention of sunglasses was the protection of eyes from harmful sun radiations. Other than their functional use. Sunglasses have become a must-have accessory. They enhance the quality of your face. Sunglasses complement your makeup as well.
Sunglasses come in different sizes, colors, shapes, designs, and much more.
Shoes
People usually judge you by just looking at your shoes. A well made and fitting shoe is considered as a good investment. Once, shoes only played the part of protecting our feet. But now times have changed and shoes have become an ingrained part of our fashion style. They are needed equally by men and women to complete their appearance. Wardrobes are found to be full of different collections of shoes each specialized for a different purpose.
Heels
How can we forget the most crucial member of our wardrobe, the heels? They go well with every dress that gives a womanly look. Sarees, gowns, skirts, dresses, all can be complemented with a good pair of heels. These can even be carried easily with corporate looks as well.
The demand for Beautiful sorts of designs and sizes is growing in the market, ranging from the formals to informal.
Handbags or Purse or Wallet
The handbag is the entity without which a woman cannot think of stepping out of the house. The accessory which tops the priority list is the Handbag.
A small pouch-like commodity in which one can keep money and cards and essential items is a purse or a wallet. As both males and females can utilize a handbag with an essence, it is considered very stylish.
Hats and Hair accessories
A hat is a head covering for protecting one's head. This is one of the classic accessories one can go for.
Hair accessories include hair bands, bun covers, pins, barrettes, clips, beads, hair bows which can be used to wrap around the hair. These can be tied, inserted, or just attached to the hair.
Tiaras are worn in parties because they give mesmerizing looks.
Belts
These are the indispensable part of formal attire. Without belts, a formal dress is like a soup without salt. Designer belts are worn by both males and females. But informal fancy belts are also worn by women. The fancy may be in chains, funky designs, colorful patterns, etc.
Don't change to fit the fashion, change the fashion to fit you.
One can change the entire look of the dress with the accessories. Anyone can make a dress, their own, by just picking the most appropriate accessories which flatter their looks.
Stay fashionable! And if you like the article, do comment and like our Facebook and Twitter page. Share your thoughts and experiences with us! Daily Tactics Guru will keep bringing such interesting topics.