INDIA, Daily Tactics Guru assumes that if anybody ever thinks about India ever, the first thought which comes to my mind is Food. The finger-licking delicious Indian Dishes.
India is full of diverse cultures. And each culture has its own unique and special food, traditions, and much more.
Here, in this section, Daily Tactics Guru is going to discuss, about the most flavorsome and famous dishes of South India.
South Indian food is known for its flow, aroma, and tempting taste. The dishes from the south of India are appetizing as well as nourishing. The spices play a significant role in bringing out the brilliance of intense flavors, the beauty in seasoning and appearance, and the mouth savoring the taste.
So, let's get started with Daily Tactics Guru to make our mouths water….
Masala Dosa
It has its origin in Mangalorean Cuisine of Karnataka. Although the preparation can vary from city to city the major ingredients always remain the same. It is the most adored delicacies of South Indian States.
The main ingredient is Rice, the staple food of the South Indian Region. The rice is soaked overnight and converted into a batter. This fermented batter is spread over the pan in a circular manner. The oil is sprinkled all around to make the dosa layer crispy.
Then this dosa is stuffed with the stuffing made up of mashed potatoes and seasoned with mustard seeds and curry leaves. For garnishing, lemon juice and coriander leaves can be used.
It is served with different kinds of Chutneys and Sambar. Chutneys can be made using tomatoes or peanuts or the most preferred in South India is the coconut chutney. Sambar is referred to the curry which is served along with the dosa. Different tastes of the Sambar can be produced by using different types of ingredients depending on the people consuming or preparing it.
Idli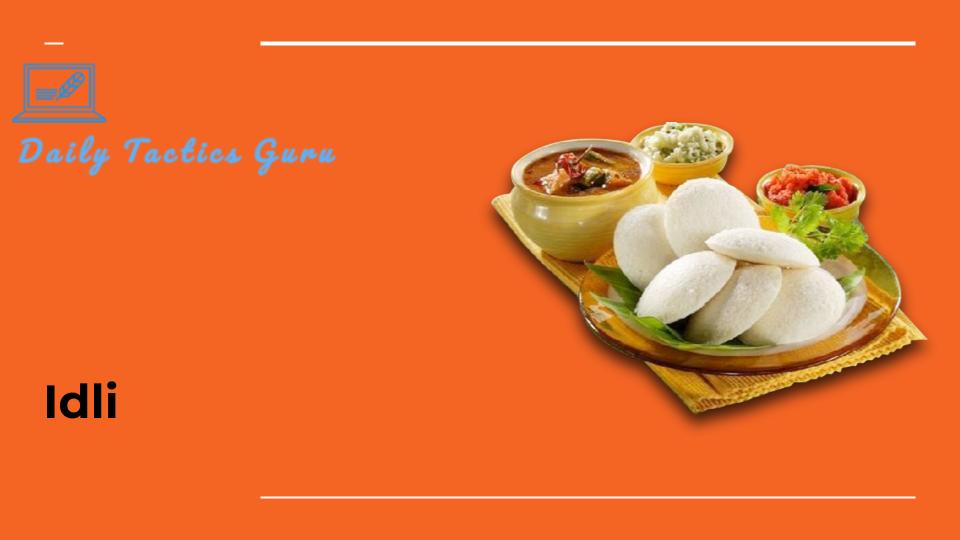 Idli is a type of rice cake having its origin from Tamil Nadu.
For making Idli, two different batters are prepared by soaking four parts of uncooked rice in one container and one part of black lentils in other containers. They are kept to soak for at least four to six hours. Then these are grinded separately having different textures. The final mixture is prepared by mixing these two which is further kept overnight for fermentation.
The finished idli batter is then filled in idli moulds of an idli tray for the process of steaming. These moulds are first greased with oil or ghee. This tray is then kept for 20-25 minutes in a pot filled with boiling water. The tray must be kept above the water level in the pot. And covered.
The idli is also served with Sambar and other chutneys.
Rava idli is a variation where semolina is used as an ingredient.
Vada
Vada is a fried dish made up of different types of legumes. There are different variations of vada like Medu Vada and Aamai Vada.
Medu Vada is soft from inside and crispy from outside. These are made up in the shape of doughnuts. These vadas are prepared from black gram batter. The fermentation of the batter is done before making the vadas and frying them. Other spices like pepper, curry leaves, coriander, fenugreek, etc can be added to intensify the taste.
Amai Vada is prepared using Toor daal. The same procedure is done as for the Medu vada but ingredients and shape differ. They are made in the shape of UFOs and vegetables like green onions, spring onions, mint, etc can also be blended.
These Vadas are also served with Sambar and Chutneys like any other South Indian Dish.
Appe
They are also called as Paniyaram. Similar to most dishes of the southern region, this dish also initiates with the fermentation of the batter. Appe pan has different fissures in it wherein the batter is filled. The pan is preheated a little. Each fissure must be filled with some oil for cooking. Low flame heat should be maintained for steaming.
This appe can be made using lentils or semolina. These can also be heavily filled with lots and lots of vegetables in them. And this dish is also enjoyed with sambhar and chutney. It can also be incorporated with gravy.
Payasam
Payasam is a special type of Kheer having its origin from Andhra Pradesh. It is one of the traditional sweet dishes of South India. It is served as a dessert along with the main dishes.
Moong dal is the main ingredient for Payasam. First, the moong dal is boiled in milk and then roasted in a pan. Some amount of Jaggery syrup is also added in while roasting the moong dal. Lots and lots of dry fruits roasted in ghee can be added into the Payasam. For fragrance, cardamom and food flavors or food coloring can also be added by choice. Payasam is served hot. A little amount of Saffron can also be added for a beautiful appearance and taste.
Bonda
Mysore Bonda is a typical breakfast of Karnataka. The batter is prepared by using urad dal as the most crucial ingredient. Black pepper, chopped ginger, coconut, green chili, coriander can be added with mashed potatoes in the filling. Balls of stuffing are coated with batter and deep-fried in oil or ghee.
A pinch of asafoetida can add more delicacy to the dish. It can be served with tomato sauce or chutneys.
Uttapam
It is a very significant delicacy of Tamil Nadu. It is an expanded version of dosa. Green chilies, tomatoes, capsicum, onions, and other chopped vegetables are added in the batter for a preferred taste. A little oil can also be added in the batter to produce more crunch.
But here, the dosa base must be steamed from both sides and a thick layer of batter must be spread on the pan. Served with chutneys and Sambar.
Rasam
It is one of those dishes which along with extravagant taste gives a lot of health benefits. This is a side dish with rice but can also be served as a soup. It is good to cure many health problems but best for sore throat and the common cold.
Tempering is done using vegetable oil, mustard seeds, cumin seeds, and fenugreek seeds. Then chopped tomatoes and other vegetables (if you like to add) along with the spices, salt, turmeric are added and cooked for a few minutes. Later water and tamarind pulp is added and boiled.
And now it can be served hot!
Ethakka Appam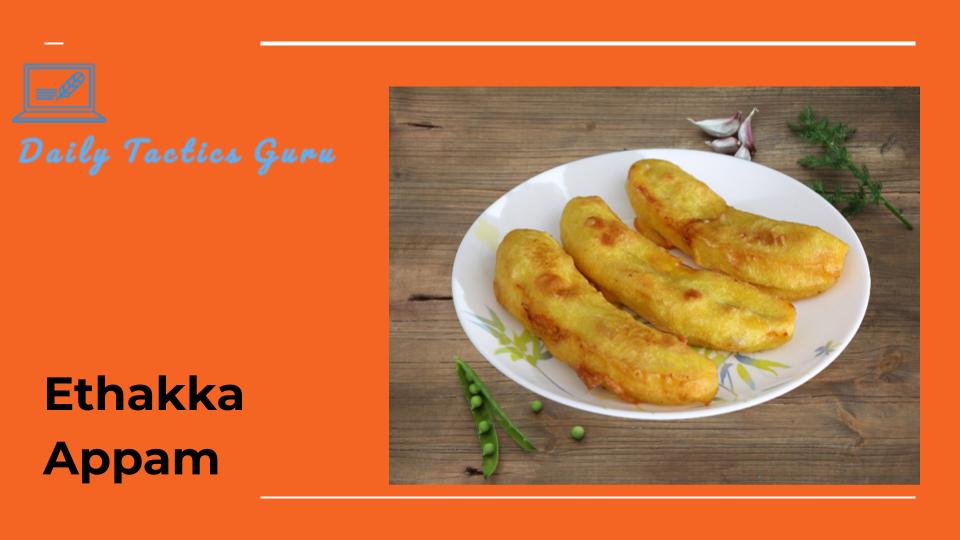 These are the famous banana fritters enjoyed as a snack all around the streets of Kerala. These fritters can be served with hot coffee or tea or with smoothy. You need a batter containing refined flour, rice flour, sugar, a little salt, turmeric for the color, and most importantly water. Thin slices of ripe banana are cut and coated with the batter. These banana slices are deep fried one by one until they become crisp and crunchy.
This tasty snack, also known as Pazhampori is served from big restaurants to the small street stalls.
South Indian food is one of the best of the cuisines in the world. You can try these recipes at home and even share your experiences with Daily Tactics Guru. I hope you like this article, please share your comment with Daily Tactics Guru. Also, please like our Facebook page. Happy eating!!!